It takes a range of solutions to address the range of challenging issues.
If you need support through the challenge you face, turn to us for the best quality care and therapies.
There is no 'one-size-fits-all' approach to treatment in psychology counselling; each therapy is different and must be tailored to each client to be effective.
As psychology counselling is grounded in science, our therapies are tried and tested to deliver the best outcomes for our clients; where appropriate, our team utilise the following approaches.
Should you require more information, for either a personal or corporate enquiry, we guarantee an in-confidence service at all times.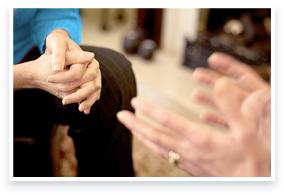 Please contact us to see how a Crookes Counselling and Consulting Services psychologist or social worker can help you deal better with life's challenges.
---
Hypnosis. Hypnosis is a state of altered consciousness, much like a deep daydream, and a great way to achieve a mentally relaxed state in which you are open to suggestion on how to change or overcome your behaviour and thinking.
Cognitive Behaviour Therapy (CBT). CBT assists you to develop new ways of thinking; builds your knowledge and skills and helps you to manage your concerns, and life, better.
Interpersonal therapy (IPT). Particularly useful for those suffering from depression, IPT allows people who are withdrawn or isolated to reconnect with their family, friends and community.
Mindfulness. With its roots in Buddhist meditation, mindfulness is having an awareness of the everyday in order to control thoughts and feelings of anxiety and stress.
Narrative Therapy. Recounting your story and listening to yourself. It uses story-telling to derive meaning from your story, to discover meaning, place and purpose.
Positive Psychology. Discovering and promoting the things that go right in a person's life, rather than accentuating those that go wrong.
Body Psychotherapy. Using a variety of techniques to bring awareness of the body to the mind.
Solution Focused. Concentrates on what a person is aiming to achieve through therapy, rather than the issues that brought them there in the first place.
Person Centred. By making a person comfortable in a non-judgemental environment to converse, the person themselves start to see ways to address their issues.
Crisis Intervention or Psychological First Aid. Emergency psychological care aimed at rebalancing a person's mental state to prevent ongoing future mental suffering.
Projection Techniques. Projection or play therapy, combined with cognitive behaviour therapy, is especially useful for children suffering from trauma or anxiety.
Eye Movement Desensitization and Reprocessing (EMDR). Useful to stop the development of trauma-related disorders stemming from distressing life events.

Dialectical Behaviour Therapy (DBT). DBT is a type of cognitive behavioural therapy. Cognitive behavioural therapy tries to identify and change negative thinking patterns and pushes for positive behavioural changes.
Our philosophy... To assist clients to enhance their wellbeing,

build life skills and fulfil their potential.