Sarah Gale - Psychologist
Qualifications
General Psychologist Registration (AHPRA)
Associate Member of the Australian Psychological Society (APS)
Working with Children Check
AHPRA Psychology Internship
Bachelor of Behavioural Sciences (Honours)
Member - Australian Association for Cognitive and Behaviour Therapy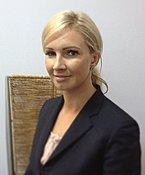 Areas of Special Interest
Relationship difficulties
Self-esteem issues
Bullying and workplace related stress
Psychiatric problems (mood disorders, anxiety, adjustment difficulties, psychosis, obsessive compulsive disorder)
Sarah embraces a solution focused approach towards assisting people to achieve psychological and emotional health. Not only has she developed considerable experience in private practice, but she has accrued extensive experience working within university, community and hospital based settings. As such, she offers expert services in the assessment and treatment of a range of psychological disorders and syndromes for adults and adolescents.
Sarah has also worked with individuals seeking to enhance their psychological wellbeing by helping them to discover ways to improve their self-esteem, manage overwhelming emotions, manage stress, communicate effectively, improve their relationship with significant others and also create a rich, full and meaningful life in accordance with their values.
In addition to her clinical work, Sarah is also passionate about advocating for her clients and has extensive experience preparing psychological assessment and court reports for Victims of Crime and WorkCover.
Sarah utilises a number of empirically-proven treatment approaches to guide her work including Cognitive Behavioural Therapy (CBT), Acceptance and Commitment Therapy (ACT), Mindfulness and Schema Therapy.
Sarah is a registered provider as a Psychologist with Medicare, TAC, WorkCover, Victims of Crime and most Private Health Insurers.
Days available: Thursday and Friday
Please note :Thursday morning's are only Telehealth Appointments.